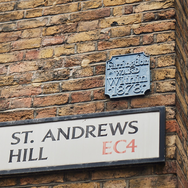 5SAH is delighted to announce that Ellen Crow, Meeno Kaur Chawla & Lily Brett have all accepted offers of tenancy to join chambers, following the successful completion of their pupillages.
Ellen prosecutes and defends in a wide range of criminal cases. She has a growing practice in proceeds of crime and extradition and is keen to expand her professional discipline practice.
Ellen has undertaken specialist Youth Justice training with the Youth Justice Legal Centre and is confident dealing with young and vulnerable clients.
She is on the Attorney General's Junior-Junior Panel and has accepted instructions on behalf of the Ministry of Justice. She is a Grade 1 CPS prosecutor.
Meeno prosecutes and defends in a wide range of criminal cases. She has a growing practice in Extradition, Proceeds of Crime and related areas and also accepts instructions in regulatory and family proceedings.
Meeno supports pro-bono work and has recently completed working on a case for Advocate and was awarded their Pupil Pledge Pro-Bono Award. This highlights her commitment to access to justice.
Meeno is on the CPS General Crime Advocate Panel at level 1.
In her first 4 months of pupillage, she observed extradition and international law cases. In her second stage of pupillage, she observed serious and organised crime.
Lily practices exclusively in all areas of family law, with a particular focus on private children law and financial remedy proceedings.
Lily manages an extensive practice in private children law proceedings entailing a wide variety of issues including cases with an international element, serious allegations of domestic abuse (with regard to PD12J), substance misuse, mental health issues and parental alienation.
Lily has a significant amount of experience within public children law proceedings after dedicating several years working within the childcare team for various Local Authorities before joining the Bar. Lily has a growing practice in financial remedy proceedings under the Matrimonial Causes Act 1973.
Non-Molestation & Occupation Orders: Lily has dealt with a vast number of injunctions, including without notice and urgent applications to secure immediate protection for her clients. She is acutely aware of the statutory guidance set out in the Domestic Abuse Act 2021 to ensure a vulnerable witness is protected throughout proceedings.
Many Congratulations to you all and welcome to 5SAH Chambers.