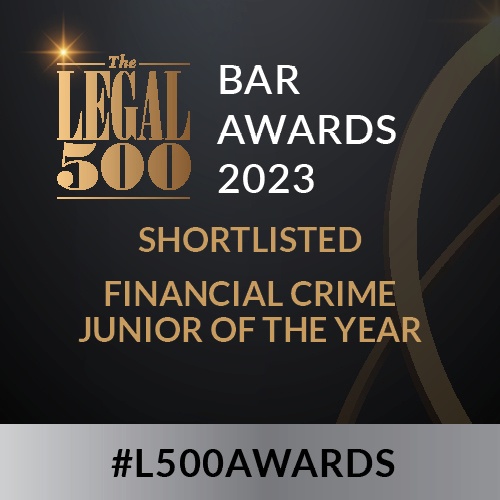 Congratulations to Sarah Wood, nominated for her work in Financial Crime at The Legal 500 Bar Awards 2023.
The awards will be held on Tuesday 3 October 2023. We wish those shortlisted the best of luck on the night.
Sarah is Joint Head of the Business Crime Team at 5SAH and is ranked in both Chambers & Partners and the Legal 500 for her confiscation and asset recovery work. Sarah is ranked as a Tier 1 leading junior barrister in the Legal 500. Sarah is also recognised in Chambers & Partners in Financial Crime - Private Prosecutions spotlight table. She is an experienced and highly accomplished practitioner who specialises in criminal and family matters involving high-value assets and complex financial arrangements.
Sarah has experience in all aspects of the financial proceedings that follow a divorce or separation; her knowledge and experience of international asset-tracing and complex offshore trust arrangements gained through her criminal work give her a distinct advantage in this area of work.
She is one of a handful of counsel at the Bar with demonstrable experience of dealing with cases where there are contemporaneous proceedings in the criminal and family courts in relation to the same assets and is therefore able to advise clients and appear in all aspects of both sets of proceedings.
Contributors