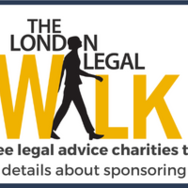 5SAH Chambers will be walking 10k on 13th June 2023 to help fund much-needed frontline free legal advice services. We can't wait to see you on the walk!
You can support the London Legal Support Trust by donating here.
We look forward to seeing you all on the walk around London, supporting a fantastic event and much-needed legal services for those who desperately need access to it.
"For 19 years the London Legal Walk has been bringing together the legal community to support free legal advice services on the frontline.
As the cost of living rises, the need for free legal help with debt, benefits, housing, asylum and domestic violence is now greater than ever. So please come and join us at this year's Walk on Tuesday 13th June."
Contributors