For IWD 2023, Sarah Wood discusses her racing debut as part of the first all-female team in the Porsche Club Boxster Cup Championship
Donington Park - 1st April – First Race
There is a bitter-sweet irony about the fact that on April Fools' Day I will seek to fulfil a childhood dream and finally get to go motor-racing. It's fair to say that the nerves are already setting in but with the backing of Chambers, Mackrell solicitors and the hugely supportive team at SW Engineering (Stuart Wallace as opposed to Sarah Wood) I'm going to give it a go.
The first all-female team in the Porsche Club Boxster Cup
The nerves, imposter syndrome but overwhelming sense of excitement are not too different from how I sometimes feel in my 'day-job' as a barrister but there is a whole new aspect to what I am embarking upon that feels special. And that is the fact that I will be part of an all-female team that will be competing with SW Engineering in the PCGB Boxster Cup series. It wasn't planned like this, and in some peculiar way feels like it was just meant to happen, but the reality is that us three women are starting on a journey that very few have gone on before. Where we'll end up is the unanswered question at the very start of our inaugural season together but it's going to be exciting learning together to find out.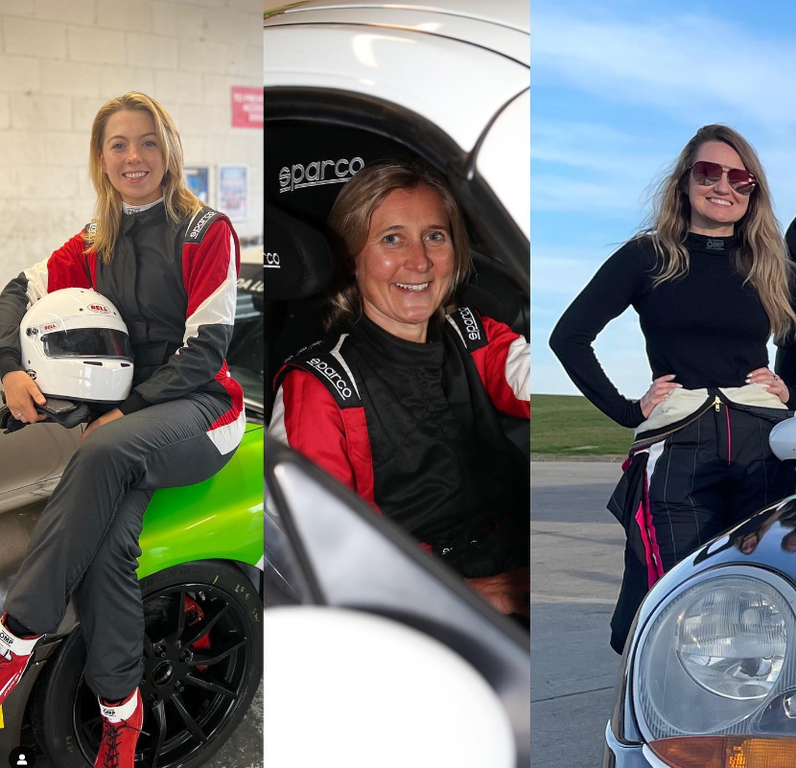 The three of us (Jess Wilkinson, Zoe Kyle-Henney and myself) are all novice drivers and will be fulfilling our ambition with SW Engineering. As such we will proudly be displaying the compulsory black and yellow cross on the back of our cars for the first six races of the season but that won't dampen our enthusiasm. Our first race will be at Donington Park, followed by races at Brands Hatch, Anglesey, Oulton Park and Silverstone. The season will end at the start of October at Snetterton.
Whilst we won't be the first women to have raced in this series as two more experienced drivers are now entering their third season with the championship (Sarah Thomson and Faye Noble-Evans) the three of us will be the first all-women team to be entering. In a sport that has traditionally been dominated by men, both on and off the track, it is this aspect that feels particularly exciting.
Women in Motorsport: More grass-roots opportunities
A lot has been done in recent years to encourage women into motorsport by the introduction of the all-women W-Series and Lewis Hamilton's initiative with Mercedes ('Ignite'), but the unfortunate reality is that it feels as if there are limited opportunities available for women at grass-roots club racing which is where a lot of people start out; unless they have been involved in karting from a young age.
The seeds of change
However, there is no doubt at all that that is changing. And relatively quickly. Part of the reason for that may be because of the increased popularity of Formula One amongst a younger generation of women following the incredibly successful Netflix 'Drive to Survive' series which has brought the sport to life in a way that was lacking when I watched it as a young girl, but it may also be because there is now much more of a sense that, as women, there is absolutely no reason why we can't give it a go.
Seeing females in motorsport: vitally important
From a personal point of view, I think it's vitally important that younger women are made aware of the fact that there are some of us prepared to enter a sport that is largely dominated by men and, importantly, compete as equals amongst them. Because much like the increasing number of female jockeys, there is now an acceptance that there is no reason at all why women cannot compete in motorsport on the same footing as men. Unlike football, cricket or rugby where there is (arguably, although not necessarily) a physical reason why male and females should not compete against each other, motorsport is one of those sports where the women can have just as much fun as the men – and at the same time.
Preparation, ability to perform & respect
From that point of view, what lies ahead for Jess, Zoe and I feels very much like my career as a barrister. The fact that my opponent may or may not be male has never been a relevant factor in terms of how I prepare and present my cases. It is, quite frankly, irrelevant. What matters is your own personal ability to perform regardless of what gender your opponent is, whilst ensuring that you treat every individual with the same level of respect and kindness. With that in mind you can't help but feel that both the Bar and motorsport, ironically, have a lot in common and are already doing their bit to embrace equity.
Sarah Wood is a barrister at 5SAH Chambers. She is Joint Head of the Business Crime Team at 5SAH and is ranked in both Chambers & Partners and the Legal 500 for her confiscation and asset recovery work. Sarah is ranked as a Tier 1 leading junior barrister in the Legal 500. Sarah is also recognised in Chambers & Partners in Financial Crime - Private Prosecutions spotlight table.
Sarah, Jess and Zoe will take on their first race at Donington Park, followed by races at Brands Hatch, Anglesey, Oulton Park and Silverstone. The season will end at the start of October at Snetterton. To see the full calendar of events, click here.
If you would like to see how you can get involved in motorsport, we have put together some links for females of all ages wanting to access the sport:
Contributors