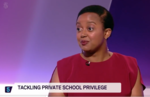 Natasha Shotunde featured on Channel 5 News on Tuesday 25 June at 6:30 pm. Natasha was interviewed on the findings of an Elitist Britain in a recent study by the Sutton Trust and the Social Mobility Commission. Natasha was interviewed alongside Dawn Foster for a panel discussion led by Claudia-Liza Armah.
Click here to read the full report from an Elitist Britain: 2019.
"The research finds that power rests with a narrow section of the population: the 7% who attend private schools and the 1% who graduate from Oxford and Cambridge.
Today's report reveals a 'pipeline' from fee-paying schools through Oxbridge and into top jobs. 52% of the leading figures in some professions (senior judges) came through this pathway, with an average of 17% across all top jobs."
From Elitist Britain: 2019 Report Overview.
Natasha is an advocate of social mobility and change at the Bar. She is a Social Mobility Advocate for the Bar Council and is a co-founder of the Black Barristers' Network. She has written on the issue of social mobility for the Times and her piece can be read here. She recently wrote on imposter syndrome for Counsel magazine and her candid article can be accessed here. You can also catch up on Natasha Shotunde's two talks involving diversity at the Bar and her journey to Pupillage and qualifying as a Barrister.
Natasha is a barrister who accepts instructions in family, civil, regulatory/professional discipline and extradition. Her main practice is family law and she has a particular interest in international cases and cases involving a human rights element. Natasha also works on disclosure reviews for inquiries. She was instructed on the Grenfell Inquiry and is currently working on the Dame Linda Dobbs Review.
Contributors