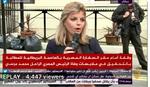 On Friday 21 June 2019, Hilary Lennox spoke at a press conference outside of the Egyptian Embassy organised by the Arab Organisation for Human Rights in the UK (AOHR UK).
She was speaking on the recent Human Rights abuses in Egypt following the recent death of the former President, Mohamed Morsi. The AOHR UK were calling on the United Nations to investigate the death of Morsi who died on Monday in a courtroom due to alleged inhumane treatment during his time in an Egyptian prison. It is alleged that Morsi suffered human rights abuses at the hands of the al-Sisi Regime.
Hilary specialises in international human rights and family law. Hilary is instructed to bring cases on behalf of individuals before the European Court of Human Rights most recently against Ireland. She speaks French, Spanish and Irish.
Contributors