Specialised investigation into sexual violence in conflict is essential for justice, experts say: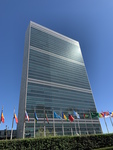 Serena Gates was recently invited to appear on a UN-hosted expert panel on sexual violence in conflict. The event was held at the United Nations in New York City on 24 April 2019 on the sidelines of the UN Security Council open debate on sexual violence in conflict.
Experts came together to discuss what it takes to achieve justice for conflict-related sexual and gender-based crimes, through investigation and documentation and how accountability can reduce the cyclical nature of sexual violence in conflict. Nearly 20 years since the adoption of the UN Security Council resolution 1325, which calls on all parties in conflict to uphold women's rights and respond to violations, impunity for conflict-related sexual and gender-based violence continues to undermine international peace and security.
The event, held on 24th April 2019, was co-sponsored by UN Women, the office of the High Commissioner for Human Rights (OHCHR) Justice Rapid Response and the Permanent Missions of Canada, Ireland, Lichtenstein, the Gambia and the United Kingdom to the UN, and moderated by Ambassador Christian Wenaweser, Permanent Representative of the Mission of Liechtenstein to the UN.
Click here to read the report from the panel discussion here on the UN Women's website. Here is a summary of Serena's discussions from the event:
"Serena Gates, former gender advisor to the Independent International Commission of Inquiry on the Syrian Arab Republic, described how rape and sexual assault against women in Syria was used as a military tactic in a number of scenarios. For women raped in detention, such reasons may include rape as a punishment at the end of interrogations and on other occasions, rape in front of men to pressure the latter into revealing information. Rape more generally was also used as a means of intimidation."
"If you can properly understand both the causes and the rationale for sexual violence, then you can not only hope to promote accountability, but also feed more effectively into early warning systems for future conflict," Gates explained.
She added: "Accountability allows victims to heal, but it's also a significant part of preventing the recurrence of such acts in the future. We must bear that in mind if we want real progress to be made."
Serena recently won the 2019 'Halsbury Award for Rule of Law', part of the Lexis Nexis Awards. The winners were announced on 13th March 2019 and the Rule of Law Award was presented by Baroness Kennedy Q.C. Serena received the award for her international work with the United Nations Syrian Commission of Inquiry.
Serena was called to the Bar in 2001 and joined chambers in the same year. She has built up a successful practice both prosecuting and defending in all types of crime including complex multi-handed cases and serious sexual offences. Serena has combined this with her wider international work for the United Nations and UK government departments. She also utilizes her extensive experience of HMG in the civil cases in which she is also instructed, for example advising in relation to judicial review.